Cannabis infused quesadillas can be a great way to surprise your friends with a unique infused edible. It's easy to make and so delicious. If you have a cannabis party coming up or simply want to wake and bake with an amazing edible, check out the recipe below.
How is cannabis infused into this recipe?
Firstly, in this weed edible recipe we used cannabis oil. If your cannabis oil is still on the go, this recipe will only take 15 minutes! If you prefer to use butter in place of THC oil, feel free to do so! This recipe pairs nicely with cannabis butter!
We infuse cannabis quesadillas by frying the quesadilla in the cannabis oil or canna-butter. You are going to cook the quesidilla until golden brown or a little bit crispy. Cannabis oil adds a very slight hint of cannabis that only enhances the flavor of your quesadilla. If you do not enjoy the taste of cannabis, do not worry! Simply dip your quesadilla in a flavorful guacamole or spicy salsa and enjoy!
Excitingly, you can also infuse delicious dips to pair with your cannabis quesadillas. Consider creating weed infused guacamole or a nice THC oil salsa. You can always garnish your sour cream wth a dollop of cannabis oil.
You can even mix your cannabis oil into your favorite hot sauce for a slightly spicy flavor. Spead this over your cannabis quesadilla for extra flavor and punch!
This recipe is packed with 40 – 80 MG THC per tortilla. Remember to consume responsibly! If you plan to use additional weed edibles, remember that your meal will be even more powerful!
Will this weed infused recipe serve more than one person?
If you would like to serve cannabis infused quesadillas at your next party, no problem! Simply multiply the denominations according to however many people you are going to host!

Start Your Cannabis Quesadillas Now!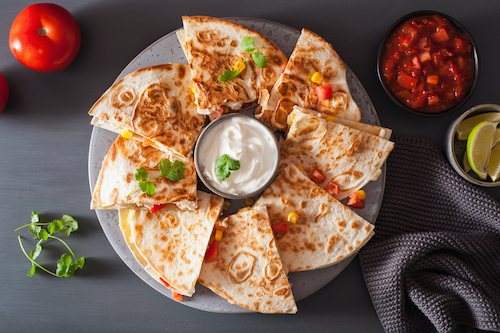 Ingredients
1

Tbsp

Cannabis oil

1

Flour tortilla

1/2

Cup

Freshly grated cheddar cheese

1/4

Cup

Cooked black beans

1

Tbsp

Chopped onion

1

Tbsp

Chopped bell pepper

1

Tbsp

Jalapenos

(Optional)

Coocked chicken breast

(Optional)
Instructions
Heat a medium skillet over medium heat. Warm your tortilla for about 30 seconds, flipping halfway. Flip once more, then sprinkle one-half of the tortilla with about half of the cheese. Cover the cheese evenly with the remaining fillings: beans, bell pepper, onion, 1/2 tbsp cannabis oil, jalapeño and chicken (if using).

Sprinkle the remaining cheese over the fillings, and fold over the empty side of the tortilla to enclose the fillings. Quickly brush the top of the quesadilla with light coating of remaning 1/2 tbsp cannabis oil, then carefully flip it with a spatula.

Let the quesadilla cook until golden and crispy on the bottom, about 1 minutes, reducing the heat if necessary to prevent burning the tortilla. And flip it over once more and repeat.

Transfer the cannabis quesadilla to a chopping board and cut in 3 pieces. Serve with guacamole, sour cream or any other salsa you like.