This is an incredibly easy cannabis infused candied nuts recipe. If you are looking to create a quick and easy snack, this is an excellent option. Candied nuts are a crowd favorite. They are a great party favor, and they complement other dishes very well. Excitingly, the sweetness of candied nuts masks the the taste of cannabis very well! Wow your guests with an option that almost completely masks the earthy flavor of cannabis!
What are the basics of this recipe?
Notably, this cannabis infused candied nuts recipe is very simple to create. In addition, it requires very few ingredients. There are a few different ways to create your weed infused candied nuts! Select the process that best suits you.
Fortunately, this recipe only takes a small amount of time to put together. If you have all necessary ingredients, you're going to stir them up in a pan for a few minutes. Following this step, you'll need to let the nuts cool.
You need 1 cup of mixed nuts, 1/4 cup of cannabis sugar, and 1 tablespoon of butter.
If you do not have cannabis sugar, you can either make this recipe first, or use cannabis butter in place of regular butter. If you prefer, you can use both of these cannabis infusions. Just remember that this will pack some extra punch. Go easy!
You can also use this weed edible recipe to create weed infused candied fruit! Just substitute nuts for fruit such as raisins, dates, peaches, pears or any fruit that you desire!
How can I use these cannabis infused candied nuts?
Weed infused candied nuts make an excellent garnish. Consider using these cannabis infused nuts as garnish to your favorite salad. One popular salad to garnish with nuts is goat cheese salad with chicken. These marijuana infused candied nuts are savory and sweet and round out salads beautifully.
Consider adding pot infused candied nuts to garnish a cake or add them to weed brownies!
Get started on your cannabis infused candied nuts recipe today!
Follow the recipe below to create weed infused candied nuts. Be sure to let us know how you make out in the comments below. Send us a picture of your weed infused candied nuts on social!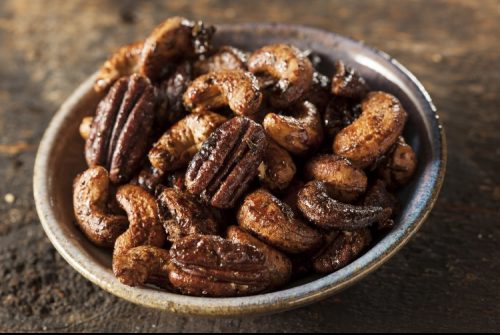 Instructions
In a non skillet pan, add nuts, cannabis sugar and butter.

Put the pan on low heat and stir sugar and nuts together untill sugar is melted and completely coated.

Transfer to a baking sheet to cool down the nuts.