This is a no bake recipe. That's right. Cannabis Chocolate Peanut Butter Cups infused with gooey delectable caramel are on the menu. This incredible weed infusion is super simple and super tasty. Follow our step-by-step recipe to create an amazing weed treat that everyone will enjoy.
Why create this cannabis treat?
This delicious recipe is easy to make and checks all the boxes. Cannabis Chocolate Peanut Butter Cups with oozing Caramel Sauce is a fun and tasty way to medicate. These weed edibles are a discrete way to consume your cannabis that tastes incredible. If you're a sucker for sweets why not get your daily dose in a way that you're sure to enjoy.
In addition, this is a no bake recipe. This means, no baking pans, no long baking times, and way less fuss. Furthermore, this is an exciting way to step up your cooking skills. Learning to make a no bake treat can open up your culinary world. Discover how to fill chocolates through freezing and layering. Imagine the potential for creating homemade gifts with this cannabis recipe.
We are infusing this sweet marijuana edible with a popular pot base.
This cannabis edible is infused by using cannabis butter. Cannabutter is a common weed infusion base that is easy to create. Your new canna-base will be put to great use due to its multi-purpose capabilities. Smother noodles, create cannabis garlic bread, or infuse a weed cake. Cannabis butter is a worthy cooking endeavor.
You will need to pick up a cannabis strain to create weed infused butter. We recommend that you speak with your local dispensary representative to find an appropriate marijuana strain. Let your budtender know that you're cooking cannabis butter.
Different weed strains work well with different recipes due to terpene content. Terpenes influence the flavor and scent of marijuana. It is also important to decide if you would like a CBD bud or THC strain. THC bud will get you high, where CBD strains will not. Select your cannabis by keeping these key attributes in mind.
If you're ready to create cannabutter, follow this recipe. If you're already set with weed butter, you can start the recipe now!
Start Your Cannabis Chocolate Peanut Butter Cups Today!
Follow the recipe below to create your weed infused chocolates. Be sure to let you guests know that this is not just any dessert. This weed snack may possess mind altering effects. Consume responsibly and keep out of reach of children.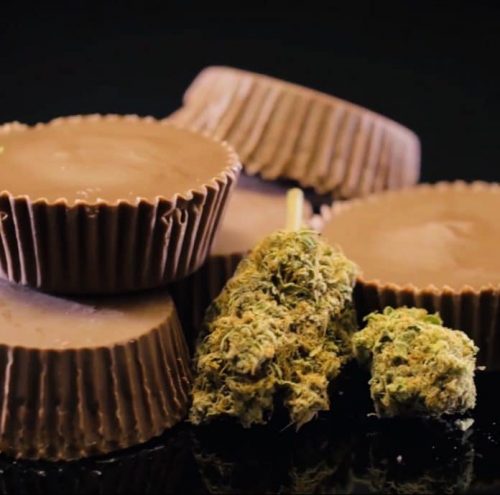 Ingredients
4

tbsp

Cannabis Butter

2

1/2

Cups Chocolate

1/2

Cup

Salted Caramel Sauce

1

Cup

Peanut butter

1/2

Cup

Powdered Sugar

1/4

Cup

Cornflakes

Pinch

of

Salt
Instructions
Take a medium bowl and melt chocolate au bain marie with your cannabis butter.

Mix using a spatula so your cannabis butter is evenly mixed into the chocolate.

Put your chocolate cannabis mix in a piping bag and let slightly cool.

Line up a tray with 12 paper cupcake cups.

Use half of your chocolate cannabis mix to fill out the cups evenly. A thin layer just so the bottom is covered will do.

Freeze for 5 minutes till chocolate is solid.

Add a good tablespoon of caramel sauce to each chocolate cup.

Freeze again for 5 minutes

In a medium small bowl, mix 1 cup peanut butter with the cornflakes, powdered sugar and cannabis butter using a hand mixer.

Add a full tbsp of peanut butter to your chocolate cups.

Now use the other half of your cannabis chocolate to cover the peanut butter.

Freeze for about 15/20 minutes.

Serve
Video
Nutrition
Calories:
200
kcal
|
Fat:
20
g