We all do it, and let's face it – we all love it! It's free, freeing, wonderful, and satisfying. It's Sex!
What is the Best Weed for Sex?
Feeling frisky? Want to uplevel your sex-life?
Ever heard the saying: "Different strokes, for different folks"? This saying could not be more true than here.
The type of experience you want to enjoy with your partner depends on the type of strain or 'stroke' you decide to eat or toke.
Edibles and Sex
Edibles can deliver a radical romp with an even larger finish. It will solely depend on what you use. Exploring with edibles and sex can be an adventure in and of itself!
Try our potent Cannabis Blondie Recipe with ice cream below and enjoy plenty of pleasure!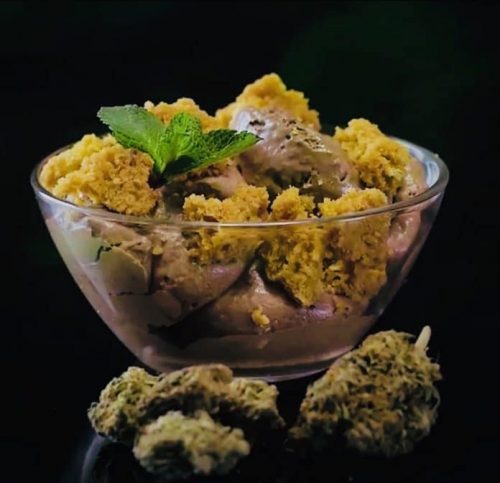 THC:
175-350mg per batch of ice cream 350-700mg per blondie batch
Ingredients
4

tbsp

Cannabis butter

1

can

condensed milk

1

tsp

vanilla extract

1/2

cup

cocoa powder

2

cups

heavy cream

1/2

cup

Cannabis butter

1

cup

light brown sugar

1

tsp

vanilla extract

1

cup

flour

1/2

tsp

baking powder

1/8

tsp

baking soda

Pinch

of

salt

1

cup

white chocolate
Instructions
In a medium bowl, mix your Condensed milk, 4tbsp cannabis butter, vanilla and cocoa powder and set aside.

In another bowl, whip your whipping cream till stiff.

Fold into your chocolate mixture with your whipping cream mixture using a spatula.

Freeze for at least 6 hours

In a medium bowl, mix together your cannabis butter with brown sugar using an electric hand mixer.

Add your egg and vanilla and mix again.

Now your flour, baking powder, baking soda and salt and mix again.

Fold in your white chocolate using a spatula.

Place your mixture in a floured baking tray and bake for 40 min on 220F.

Serve little chunks on your chocolate ice cream.
Nutrition
Calories:
200
kcal
|
Fat:
20
g
Weed and Libido
Want to rock your partner's world in the bedroom? Who doesn't! You'll want to choose something with a high amount of limonene terpenes.
Terpenes are fragrant oils found in many types of plants that produce a unique taste and smell and can induce some fantastic frisky-feelings.
Cannabis strains like Do-Si-Dos and Wedding Cake are great sexy-spicer-uppers!
Both are Indica-dominant THC hybrids that kick in quickly, making you feel euphoric before sending you off on a blissful post-sex chill-out.
Hot Sex and Cannabis Strains
Want to lose control, release your inhibitions, and boost your confidence in the sack?
We all have our intimate insecurities, but with the right dose and strain, you'll feel like a sexual rockstar!
Try Atomic Northern Lights or Grand Daddy Purple. Both are Indica dominant and promise to increase pouncing and bouncing between the sheets.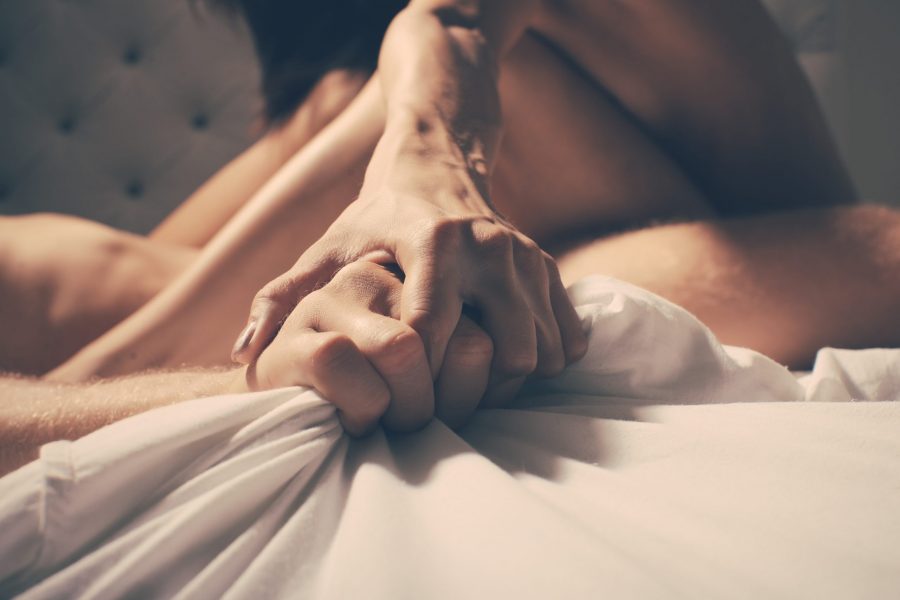 Sexual Stamina
If you have a partner who has non-stop stamina and you feel like at times, you just can't keep up – time to smoke something super sexy and powerful.
Lemon Haze is a great cannabis choice. It can zap you in all of the right spots, and for some, the orgasms are mind-blowing body-rocking experiences!
When making your edibles like yummy gummies, you may feel like you can go for hours.
Indica, Sativa or Hybrid?
Professionals suggest that that classification of weed isn't as important as the terpenes. So make sure you choose the right terpene for your mattress mambo.
Smoking or Edibles?
Even though edibles and making them are so much fun, they do take a little while longer to absorb into your system so if you have all night long then go for it! But if you want quicker kinky results, smoking might be your best bet.
More Orgasms with Ganja
For many women, it's difficult to orgasm 100% of the time. While more research needs to be completed, we did find a great lubricant that claims to offer deeper and more orgasms, enhances tactical sensations, and decreases discomfort and tensions.
Worth a try! Click here.
Let us know in the comments below (if you dare) which strains you loved and which ones worked to increase your sexual experiences! We'd love to hear from you.