Ice cream has been a favorite cannabis munchie for decades. Ben and Jerry's is usually the potion of choice. In addition, infusing cannabis with ice cream isn't a new idea. It's about time that we made Cannabis Ben & Jerry's ice cream happen, right?
If you're hoping that this ice cream company will create a weed infused pint, read on. In an interview by Huffpost (2015), creators of this ice cream began discussing this venture. This aligns perfectly with their lineup of quirky flavors. However, we don't want to wait for this to come to fruition. Check out our recipe for Cannabis Ben & Jerry's for the perfect weed dessert.
How do I create this cannabis infusion, you ask?
Now, we could give you a whole list of ingredients and steps to make a Ben & Jerry's tasting ice cream. Instead, this is a simple recipe that infuses their delicious ice cream with a cannabis tincture.
You can purchase a cannabis tincture from your local cannabis dispensary. Excitingly, you can make a THC tincture in the comfort of your home. Check out this easy to follow recipe and create your own cannabis tincture.
If you are hoping to enjoy a weed infusion and need to avoid THC, you can create a CBD tincture instead! Here is our recipe for a CBD tincture. This is a perfect option for the cannabis enthusiast that does not want to get high. CBD bud does not elicit the mind altering effects of cannabis.
Remember to tell your guests that this ice cream contains cannabis. Always disclose its elevating properties and be sure to keep out of reach of children.
Ready to create Cannabis Ben & Jerry's ice cream?
Grab your cannabis tincture and head on down to our step by step recipe. Be sure to correctly dose your ice cream according to the recipe. The rest of this recipe is super quick and easy to create! You're going to mix up the specific amount of THC following our recipe, and it is ready to be enjoyed!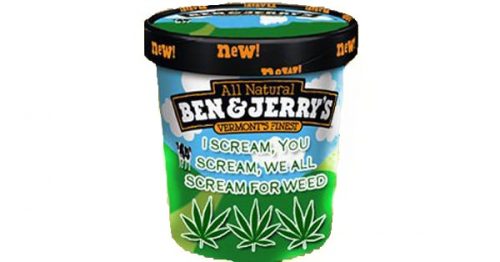 Ingredients
1

Ben & Jerry's 16 oz Cup ( Favorite Flavor)

1

Tablespoon

(roughly 175mg THC) Cannabis tincture
Instructions
In a medium bowl, melt your ice cream till a little softer but still very cold.

Add your cannabis tincture and whisk well till all combined.

Add you ice cream back to your cup and back in the freezer.

Make sure to label it to avoid anyone else accidentally eating it.
Nutrition
Calories:
200
kcal
|
Fat:
20
g